European Parks Academy 2019
Announcement of seminar topics – Registration open!
3 Seminar topics
In 2019, the European Parks Academy will take place from
15-21 July, again in Klagenfurt with the Lakeside Campus next to the Wörthersee as attractive academy venue. In that 3rd round of the European Parks Academy, participants can choose among three different modules:
Training for professionals
The academy programme is designed for professionals in nature conservation from all over the world, including administrative and technical staff of protected area management bodies, consultancies and planning companies, NGOs and international institutions, interested scientists or researchers as well as representatives of stakeholder groups having a professional interest in conservation.
Seminar A: World Heritage Sites & Sustainable Tourism

As tourism is both an opportunity and a challenge for protected areas and World Heritage sites, this module will focus on touristic regulations and recommendations of the World Heritage Convention and analyses the potential of World Heritage sites. You will learn about instruments, practical measures and approaches for sustainable planning and management of tourism flows.
Peter Debrine is Senior Project Officer at the World Heritage Nature, Sustainable Tourism and Outreach Unit (CLT/WHC/NTO). He will be our lecturer for this EPA seminar.
More information: http://whc.unesco.org/en/178/?action=detail&order=130908
Seminar B: Ecological Monitoring & Innovative Technologies

This module provides hands-on training with the latest technological innovations in wildlife monitoring as well as in vegetation and remote-sensing based change detection, and other very useful new tools and devices such as smartphone apps, tablets, UAVs/drones. Learn how to apply or customise these technologies to your specific needs.
Hanns Kirchmeier is the managing director of E.C.O. Institute of Ecology. He and the ecologist Vanessa Berger are responsible for complex modelling, managing of key projects in forest ecology and data management.
More information: https://e-c-o.at/team-en.html
Seminar C: Transboundary Protected Areas & Successful
Transboundary protected areas need to be planned and managed according to their needs. Learn how to find common approaches, deal with legal aspects, meet the challenges of intercultural communication and learn more about existing cooperation models and practical benefits of existing guidelines, e.g. the IUCN Guidelines on Transboundary Cooperation.
Boris Erg is Director of the IUCN Regional Office for Eastern Europe and Central Asia and will be our lecturer for this EPA seminar.
More information: https://www.iucn.org/regions/eastern-europe-and-central-asia/contact/our-team
Programme
15th: The first day of the seminar will be a "come together" for participants from all 3 seminars held during the EPA week. Lecturers and professionals will introduce themselves and their topics. You and your colleagues will get to know each other and their background. In the evening we are happy to welcome you at a "get-together" in our E.C.O. office.
16th/17th: The following two days will focus on the input referring the seminar topic. In the evening you will have the opportunity to visit the city centre of Klagenfurt or the Minimundus.
18th: This day will be the "Practise Day". Every Seminar will have the practical input on this intense day (Seminar A and C - EUROPARC Federation/Green List (IUCN); Seminar B - Sinsoma).
19th/20th (optional): Excursion to a relevant natural sight in Austria or Alps-Adriatic region. We will visit the border triangle SI-AT-IT and the Geopark in upper Carinthia, as well as the border region to Italy (Carnic Alps).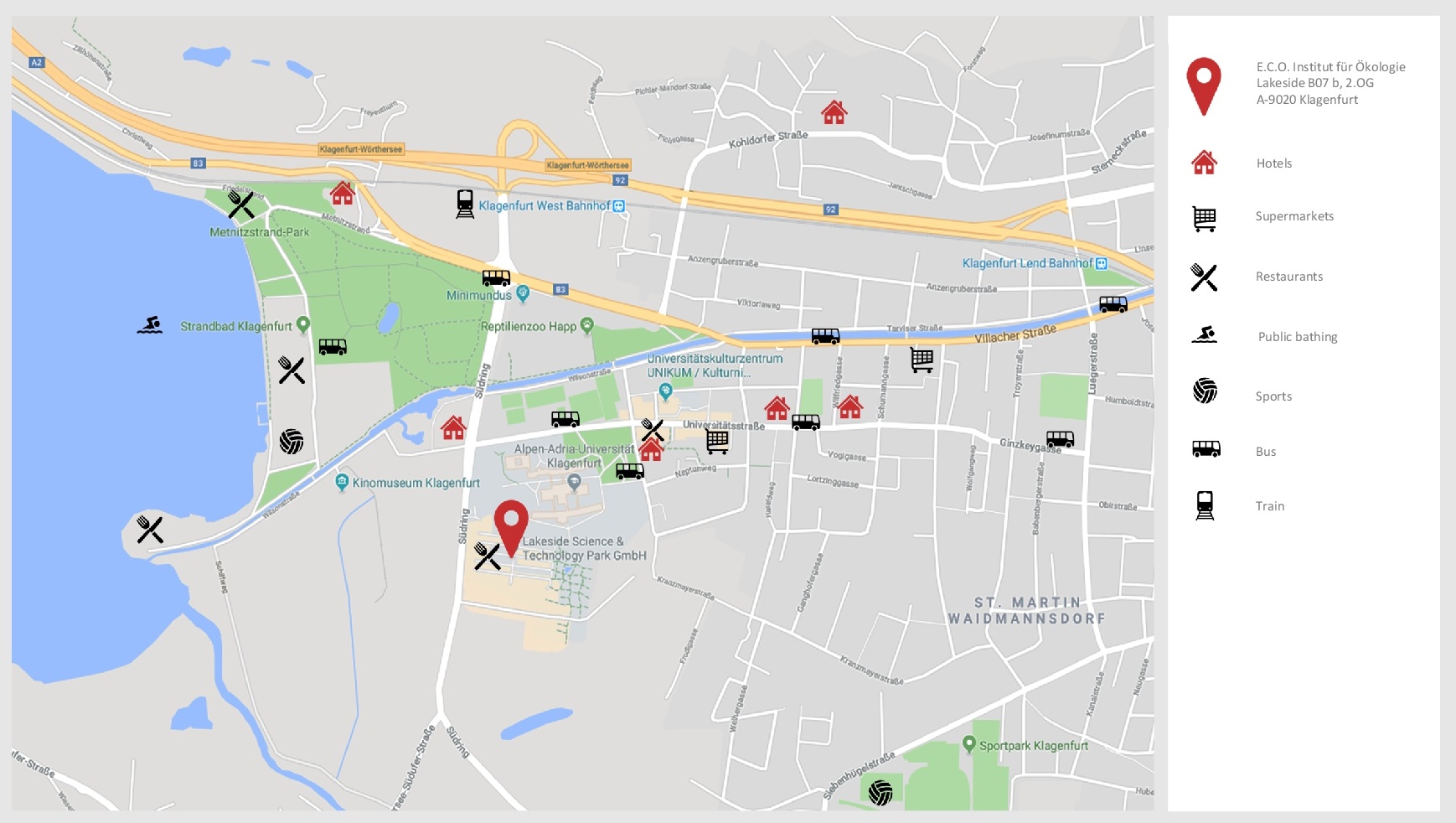 Contact
Contact
European Parks' Academy
c/o E.C.O. Insitute of Ecology
Lakeside B07b, 2.OG
9020 Klagenfurt , Austria
E-mail: epa@e-c-o.at
Programme coordination
Lisa Wolf MSc:
Sustainable development, trainings & education
E.C.O. Institute of Ecology
E-mail: epa@e-c-o.at

Programme directorate
Dr. Andrej Sovinc:
IUCN WCPA Regional Vice-Chair Europe, University of Primorska, Former CEO Sečovlje Salina Nature Park

Mag. Dr. Michael Jungmeier:
CEO of E.C.O. Institute of Ecology, Director of MSc "Management of Protected Areas"