European Parks Academy 2020
Announcement of seminar topics – Registration open!
Training for professionals
The academy programme is designed for professionals in nature conservation from all over the world, including administrative and technical staff of protected area management bodies, consultancies and planning companies, NGOs and international institutions, interested scientists or researchers as well as representatives of stakeholder groups having a professional interest in conservation.
3 Seminar topics
In 2020, the European Parks Academy will take place from 13-18 July, again in Klagenfurt with the Lakeside Campus next to the Wörthersee as attractive academy venue. In that 4th round of the European Parks Academy, participants can choose among three different modules:
Seminar A: Enhancing the Value of Natura 2000 Sites for Regional Development

Natura 2000 sites are of outstanding European value. Among European countries, different approaches exist to promote and use the site beyond nature conservation. The training and coaching programme of this seminar will deal with conflicts, challenges, limits and potentials regarding the valorisation of the Natura 2000 Sites for regional development. Participants will learn how to act between limitations and potentials as well as between socio-economic values and a Good Conservation status. Experts from the Natura 2000 Network, IUCN Green List and EUROPRAC Federation will elaborate and discuss these core themes with you. Bring your personal case example to learn from and with each other!
Representatives from international Institutions, IUCN Green List, EUROPARC Federation and Experts from E.C.O. Institute of Ecology
Seminar B: Capacity Development in Protected Areas and other Conserved Territories
Capacity development is about transformation that empower individuals, managers, organisations and communities. Today, more and more is expected from protected areas, such as educating, resource protection, visitor management and research. How do I successfully communicate the vision and values of a protected area? What are strategic approaches for attracting, enabling and informing individuals, organisations, communities as well as a broad audience? Within this seminar these issues will be elaborated with experienced experts from IUCN | WCPA and EUROPARC Federation. Bring home inspiring ideas and tools for increasing the visibility, influence and outreach of your park.
IUCN | WCPA and EUROPARC Federation
Seminar C: Nature Conservation and Human Rights in Protected Areas

Protected areas have different impacts on the lives of local communities and actions to conserve nature are often related to rights of people and their access to natural resources. Many questions remain about how to respect human rights and at the same time implement nature conservation programmes. Our Experts from the the GFA Consulting Group, the Conservation Initiative on Human Rights (CIHR) and the International Institute for Environment and Development (IIED) will discuss guidelines, examples and showcases of international importance with you.
GFA Consutling Group as well as representatives of KfW Development Bank*, IIED – International Institute for the Environment and Development* and CIHR – Conservation Initiative on Human Rights* (*to be confirmed)
Location
The summer academy is situated at the attractive and inspiring facilities of the Klagenfurt Lakeside Campus in Austria. The seminars as well as the conferences will take place on the Lakeside Campus with the Wörthersee and the historic city centre of Klagenfurt next by. An interesting evening program offers the opportunity to discover culture and nature of this beautiful place.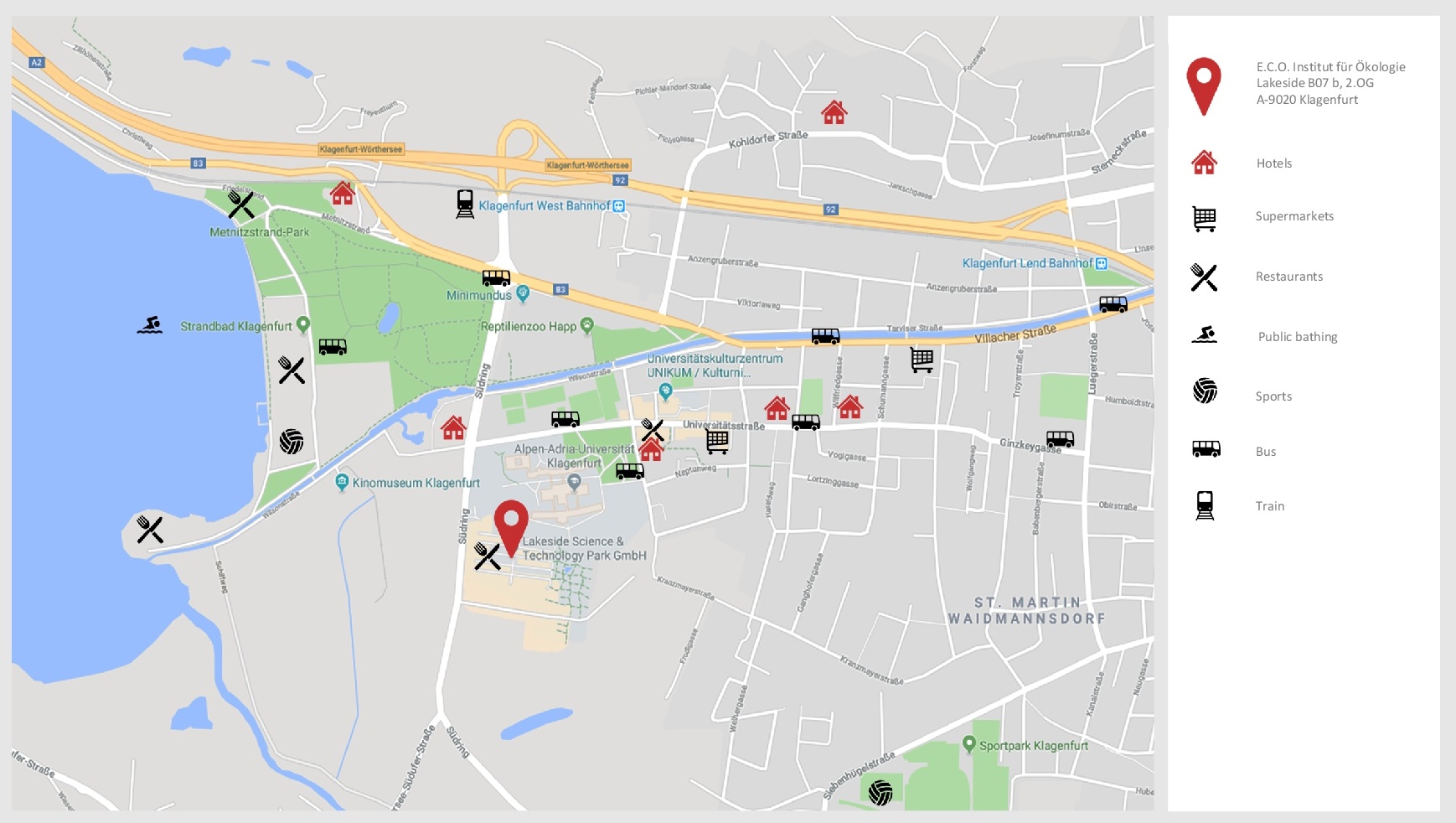 Logistics – accommodation & transport
Participants are responsible to organize their accommodation and transport to and within Klagenfurt for themselves. However, the organizing team will be glad to offer support in all logistic questions.
The venue

The academy venue is located close to the lake Wörthersee in the facilities of the Lakeside Park and the Alpen-Adria University. Around the academy venue, you have everything you need: several accommodations options, restaurants, supermarkets, possibilities to walk etc. The city center is 4-5 km away (see map above) and can be easily reached by bike or bus. Bike rental can be organized.
Accommodation
There are many accomodation possibilities in and around Klagenfurt. As the summer season is usually very busy, please make sure to book early enough!
Pension Wachau - reasonable prices (46-69 Euro incl. breakfast) and is located close to the academy venue
Youth Hostel Klagenfurt - close to the venue, shared (24 Euro) and single rooms (32 Euro), advanced payment for booking required.
Seepark Hotel - close to the venue (5 min walk), approx. 100-150 Euro.
Hotel Gretl - next to the lake in Krumpendorf (5 km from the venue), can be reached by train, bike or taxi, approx. 50 Euro.
Hotel Weidenhof - close to the venue (10-15 min walk), approx. 70 Euro.
AirBnB - private rooms or flats in and around Klagenfurt.
Travel
Klagenfurt can be reached by plane (to Klagenfurt airport), train (e.g. flight to Vienna, then 4 hours by train) or by bus (e.g. flight to Ljublijana, 2 hours by bus).
Train connections in Austria: http://www.oebb.at/en/
Shuttle bus Ljublijana – Klagenfurt: https://www.alpeadrialine.com/en/
Taxi in Klagenfurt: +43 463 311 11
Costs
Participants can choose between the following training package (early bird discount before 31st March):
The fee includes: lunch and one welcome dinner at the beginning of each module; all costs related to food, transport and accommodation during the excursion; evening program (e.g. welcome event, excursion to the lake, guided city tour, etc.)
Not covered are: accommodation (except 1 night during the excursions), dinner during seminars, transport to and within Klagenfurt.
How to register
Please download the registration form attached (on the top of this page). Fill in your personal information and select your preferred training package and respective training elements (can be done electronically after download). Print out and sign the completed registration form and send a scanned version to epa@e-c-o.at. Registration deadline is the 30th June 2020. Early bird discounts apply until 31st March. Your participation will be valid with the transfer of the fee, after you have received a confirmation mail with the invoice.
Scholarship
There are many national and international scholarships and grants available. Please check with your institution or government. One example might be the WWFs' Professional Development Grant.
Deadline...
... for early bird registration: 31 March 2020
... for registration: 30 June 2020
Course fee...

Contact
European Parks' Academy
c/o E.C.O. Insitute of Ecology
Lakeside B07b, 2.OG
9020 Klagenfurt , Austria
E-mail: epa@e-c-o.at
Programme directorate
Dr. Andrej Sovince | IUCN WCPA Regional Vice-Chair Europe, University of Primorska
Mag. Dr. Michael Jungmeier | CEO of E.C.O. Institute of Ecology, Director of Master Programme "Management of Conservation Areas"
Programme coordination
Lisa Wolf BSc MSc | Sustainable development, trainings & education | wolf@e-c-o.at
Programme assistence
Caroline Fiedler | office | office@e-c-o.at