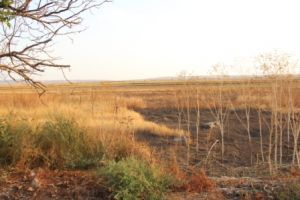 Land Use Planning and Sustainable Landscape Management in Georgia
The lack of efficient land management policies and limited access to appropriate information and technology along with high rates of natural disasters are causing significant problems in the land management sector of Georgia. The initiative "Landscape and Sustainable Land Management (L-SLM)" aims to mitigate land degradation and to contribute to poverty reduction in rural areas.
To support the integration of good L-SLM principles and practices, E.C.O. was commissioned to prepare 2 community land use plans for Shenako (Akhmeta municipality) and Arkhiloskalo (Dedoplistskaro municipality) to decision makers and the public. Additionally, a midterm monitoring and assessment of 4 ongoing micro pilot projects in the municipalities of Akhmeta and Dedoplistskaro is planned. All four pilot projects have been executed under the L-SLM project and had their focus on pasture improvement, windbreak development and crop rotation. Recommendations for the areas will be elaborated along with the conduction of on-jobs training for their successful implementation.